Talking Branch Transformation with American Lake Credit Union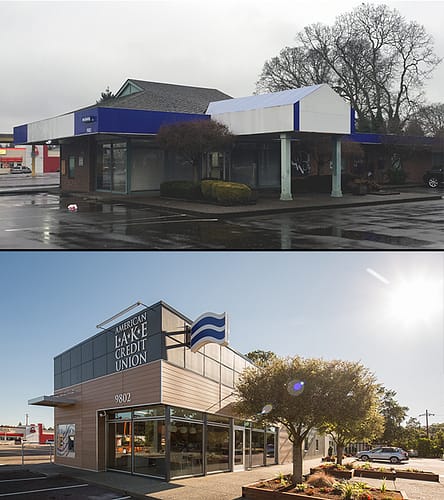 Shortly after the completion of their latest branch project, Mark Alguard sat down with American Lake Credit Union CEO Kolin McMann to discuss the project.

The new retail banking hub is a dramatic renovation of a 1960s bank branch, transforming a dated exterior and traditional interior into a fresh, modern facility that stands out in Lakewood and features both an open layout that supports conversational interactions and an operations space with room to grow.

Mark: What advice would you give to another credit union embarking on a similar level of change in their branches?

Kolin: Have an open mind. You can't have any barriers, because some of the things we thought we had to have in this branch just didn't work out while some of the things we thought we could never have we ended up achieving. Have an open mind, know that it's going to be a very daunting task but it will come out amazing in the end.

Why did you change the layout from your other branches?

We were really impressed with designs from other institutions that are going for more of the relational rather than transactional branches. It would be a huge departure to go all the way to a relational branch or non-transactional branch. We wanted to take a hybrid approach, be more interactive with the members. Consult with them in more depth than a teller line, and utilize more technology.
What we had in our mind is not what we came out with. The project morphed into something better than what our expectations had been.
How does this new location fit into your overall strategy?
It's convenient to our members. All three of our other locations are on site at SEG groups, so they're kind of out of the way. Here we're able to go after members, or future members, and grow the actual balance sheet of the credit union organically. We were also out of space on the admin side of things, and 5,000 square feet really afforded us to move outside of the basement and get everybody a window.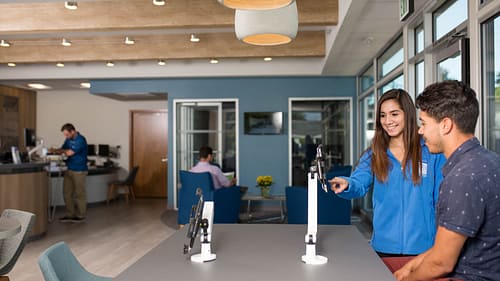 How have members reacted to the new branch?
The reception has been good. The members absolutely love the new branch, it's very inviting and a softer rather than the sterile feel. They have been very receptive to it and enjoy coming in and seeing how everything has progressed.
What is your favorite feature of this new location?
Openness and the cooperative environment. There are tons of windows, it's a very long and narrow building so everyone has a window. And our work room, where four people can work together where there had been two offices. Those are my top two areas for satisfaction with this building. It's just very open and encourages people working together.
What about the branch is helping your staff do better work?
The technology. We invested in a lot of new technology in this branch and it has really enabled our staff to serve the members a lot better. The staff love it because it's a lot more efficient. Especially the teller cash recycler, and having the drive through being a vacuum tube system rather than a window they have to stand in front of. They're able to engage the members more since the technology is taking over some of the more mundane tasks that they used to have to do.
It's just very open and encourages people working together.
How difficult was making the change to a teller cash recycler?
To get it to work and function was really easy. The biggest issue was training, and that wasn't even an issue. Going from an institution with no automation and cash dispensing besides traditional ATMs to having these recycling machines that staff use for every transaction was a big training opportunity and the staff absolutely loved it.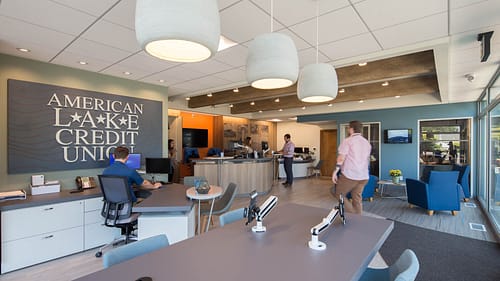 What was the best part of going through this design process?
Seeing the options. It literally is endless what you can do. What we had in our mind is not what we came out with. Once you put things to the paper, it's like "wait a minute, this really doesn't work." It really did bring out the creative side, and we figured out that what we truly wanted was something different than what we had originally envisioned. The project morphed into something better than what our expectations had been.
How was your experience working with Momentum?
Absolutely great. The entire team was amazing to work with, they took care of everything and went way above and beyond. The design aspects, we would never have imagined half the things we were able to achieve. A 1960s building that was added on to twice is now one cohesive building and it looks brand new from the street.
case study, interview