Building is a Balancing Act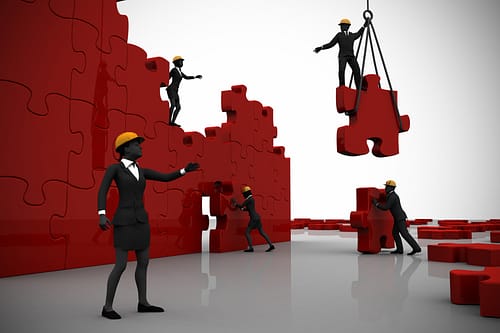 By Colin Winters, LEED AP BD+C, DBIA , Senior Director of Client Services
(Originally published on CUInsight.com/CBInsight.com)
Harmonizing Quality, Schedule, and Budget
A successful building project requires a common vision of stakeholders. Having everyone on board is paramount – balancing quality, schedule, and budget with individual and team needs can make or break a project. Often these variables are at odds with each other, which makes the planning phase crucial. It also entails a strategic, thoughtful approach.
A project manager's job is to keep things moving…
Which means asking the right questions, and setting the right course before building begins. It's also being nimble enough to adjust to changing project demands and the ability to work together to solve problems. Ultimately, a project manager manages expectations, to ensure clients are pleased with the project not only upon completion but as the years go by.
The first step of the project process is the pre-construction phase to align priorities, project requirements, and stakeholder expectations. Through alignment meetings and strategic sessions, stakeholders map an effective strategy based on agreed-upon organizational objectives, including a written statement or Project Charter.
Adjusting to project demands
The CEO's role is to manage these approved stakeholder expectations throughout construction. Many variables can impact a project, including cost and functionality, and eventually add to or detract from member service. The project manager will guide the CEO through the process with a series of reviews and approvals, and help the CEO to manage change as it occurs during construction. This thorough review and constant check-in process helps to plan for and mitigate risk, and maintain realistic expectations, as the balancing act continues.
More about cost
Consider that a transaction station (or teller line) can have multiple casework design options. For the optimal design, executive management should seek operations and teller feedback on how to best construct the equipment workflow (i.e. printer, monitor, and teller drawer layout). Perhaps not the least expensive solution, a more efficient casework will improve transaction flow and member service.
Part of the balance also hinges on decisions about contractors, suppliers, and materials. For example, some materials have a larger initial investment but lead to future savings and improved ROI, such as LED lighting – which has a higher initial cost than incandescent, but offers significant savings over time.
Scheduling
If any part of construction lags, costs increase. Here, labor contracts may be extended, property or equipment considerations evaluated or even the local authorities satisfied. As a preventive measure, a project manager should seek approvals from project stakeholders early on, before construction, especially for items with longer lead times, such as steel, glazing, furniture, etc.
Teamwork
The importance of team support is never more evident than during the project building process. Leadership can gauge how the internal team operates as a whole and their ability to work under pressure. For the project manager, it can mean continually monitoring project progress, evaluating and aligning outside talent to meet project needs, or managing a project with an emphasis on community ties. It can also be selecting appropriate materials and resources. Balancing all priorities, the project manager will keep the Project Charter on focus and find the right solutions, without decreasing morale.