First Fed Opens New Branches in Whatcom Designed by Momentum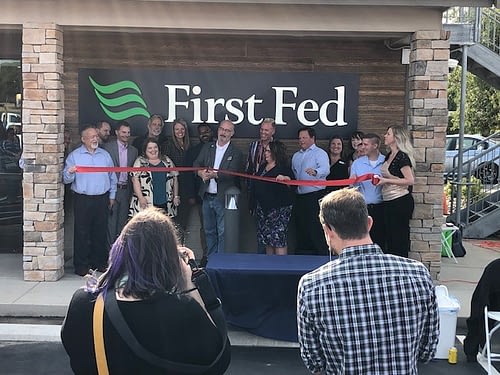 Momentum is proud to celebrate the grand opening of two new First Fed branches in Whatcom County, Washington! Designed by Momentum, these new locations in Ferndale and Fairhaven expand First Fed's footprint in the Bellingham area.
Our design team updated First Fed's branch prototype based on their new "Proudly PNW" branding guidelines with locally inspired colors and natural materials. Both branches feature natural elements prominently, including moss walls and exposed wood blocks.
Momentum has been a fantastic design-build partner and collaborator for our new branches. They are local like us and understand our Proudly PNW spirit." – Nick Mobley, VP from First Fed who led the new branch builds.

A large branded topographical map of First Fed's branch locations stands out, showing the bank's relationship not just with cities and the local communities but also the natural geography of the area. All of the furniture is from a local Bellingham vendor. The subcontractors were hired from the area as well. The result is that nearly all of the cost of these branch locations was reinvested in the community.
The Ferndale branch breathes new life into a dated building, transforming both the interior and exterior and opening the building up to natural light. It's conveniently accessible to foot traffic from both a high-end retail development and new multifamily housing. Featuring an open layout with a teller pod, it feels like a welcoming space where customers come in not just for transactions but to start conversations and build relationships with the First Fed team.
The Fairhaven branch is located on the ground floor of a new mixed-use apartment building in the historic district. The high ceilings and smart use of urban space provides a big presence in the community. The front of the branch fully opens to the street with a retractable glass wall, a feature that helps First Fed quite literally break down barriers and build a deeper connection with local residents. They've already hosted a wine tasting event in the branch and are excited to host other community events there.
The branch has a great corner street presence with visibility into the conference room with large topographical map. Outside watering stations for adults, children, and even dogs give customers and the general public a reason to stop by when walking in the neighborhood.
With these new branches, First Fed is establishing themselves as a valued part of both the Ferndale and Fairhaven communities.
About Momentum
Momentum is a strategic design-build partner that takes a people-centric approach to helping credit unions and community banks thrive.
The way we see it, a building cannot be successful unless it's truly  meeting the needs of the people who will use it. We start by fully understanding your business goals so we can design and build for your employees, your customers. We use powerful predictive data to zero in on how to best serve the people who live and work in your neighborhoods, and we help uncover the right technologies to connect your employees with colleagues and customers. We collaborate with you every step of the way using a unique integrated process and open communication style, so all stakeholders can move forward with confidence. We deliver brand-inspired buildings that strengthen connections and reflect their communities, where people love to work and visit.
People are the reason we do what we do, and high-performing buildings are the outcome.

About the First Fed
First Fed is a local community bank in Washington which has served customers and communities since 1923. Currently First Fed has 15 locations in Clallam, Jefferson, King, Kitsap, and Whatcom counties. In 2020, First Fed donated over $1 million to non-profit organizations through our bank and foundation. First Fed is a member FDIC and subsidiary of First Northwest Bancorp (FNWB), a holding company for the bank and other investments.
Ready to Kick Off Your Next Project? Download Our Branch Ideabook!