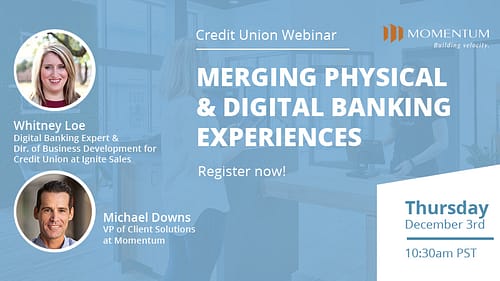 As the pandemic rages on and consumer adoption of digital banking continues to accelerate, simply providing digital experiences is no longer a differentiator in itself. Now more than ever credit unions must establish unique experiences to differentiate themselves in the market – and the most important aspect of this is creating a natural and consistent experience across physical and digital channels.
Join us in December for a unique webinar with special guest Whitney Loe, a digital banking expert in the credit union space, as we explore opportunities to merge physical and digital banking experiences and transform these experiences into unique differentiators that engage your current membership and draw in new members.
After the webinar, we'll also host a Q&A session to help pull out strategies that can benefit your unique situation.
Sign up now, and don't forget to add it to your calendar with the links in the email!
Register now!


Date: Thursday, December 3rd
Time: 10am Pacific, 1pm Eastern
Duration: 45 Minutes
Where: Zoom (Meeting link to be delivered via email)
Special Guest: Whitney Loe, Director Of Business Development For Credit Unions at Ignite Sales and Digital Banking Expert
This is the first webinar in a three-part series:
Part 2 – Merging Physical and Digital Banking Experiences – December 3rd

Part 3 – Building the Business and Marketing Case to Support Your Branch – January
Register today and we'll also send you a copy of our 2020 Branch Ideabook! The Branch Ideabook highlights recent examples of credit union branch innovations, features the latest design trends as well as the "why behind the design."