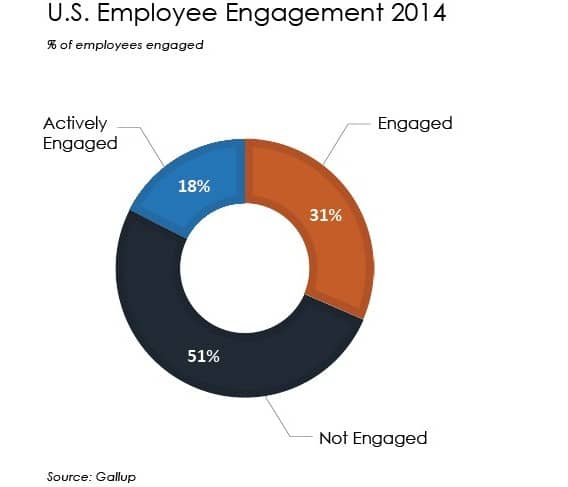 What we believe
Occasionally – ok, regularly – we read about innovative workplace environments in Harvard Business Review, Fast Company, Inc., and elsewhere. We learn that Zappos measures the return on their workplace in terms of "number of collisions created". We don't immediately recognize a Google campus as a place where work is happening. We wonder how napping pods, plastic jungle decorations, and indoor putt-putt courses support company performance. We read that for Zappos, it's about supporting a happy and engaged employee who will deliver the best customer service. We're informed that for Google, the aim is to inspire innovation and creativity, and the belief is these traits compound when their team-members interact socially. For both, we're told, the innovative workplace tactics work.
But environments that work for Google and Zappos might not work for another organization. With respect to cultural differences alone these environments won't be unique and customized – or even relevant – to other organizations. It's the methodical approach towards creating a built workplace environment that supports employee performance that we think purpose driven organizations should emulate. When considering the large cost of a workplace – designing, constructing, leasing, purchasing land, heating and cooling, and, most importantly, the salaries of staff – the level of performance most workplace buildings deliver is unacceptable. We believe that for many of our credit union partners, the workplace is a powerful tool to help them reach higher levels of organizational performance.
Our credit union partners are asking us about these transformational workplaces. One of our clients recently invited us in to discuss their 10-year workplace strategy. Their first question – "Is a progressive work environment right for us?"  We delved deeper into the question. "What issues are you trying to resolve?" While there were many objectives unique to this partner, a certain theme emerged that is quite consistent with what we've heard from credit unions across the country: a need to grow efficiently and be relevant and attractive to the talent that would help them do so. Through the course of our work together we'll find out what workplace strategy is right for this client, and we'll begin by gathering evidence, employee by employee, of what is and what isn't working in their current work environment.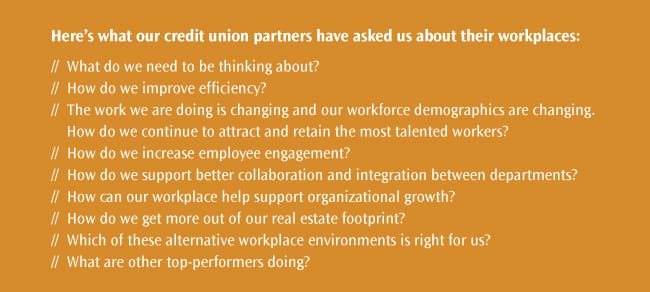 Why this matters
It is easy to get caught up trying to develop an answer for a problem before clearly identifying the issue and its impact on organizational performance. Much like selecting an expensive Information Technology solution prior to creating an Information Management strategy, organizations often find themselves trying to implement the newest features in workplace design without an understanding of how these tools will improve the effectiveness of their workplace or how the investment will help them achieve their goals. This is why we continue to study the connection between workplace needs, the strategies to meet these needs, and how addressing these workplace needs can help credit unions achieve higher levels of performance.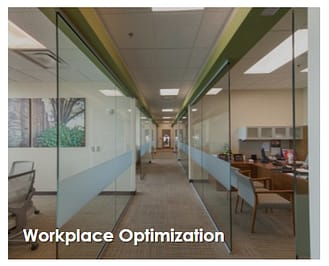 In their standardized and ongoing research in to how employee work is supported by the workplace, The Leesman Index reports that only 54.8% of workers believe their physical workplace environment helps them work productively. Compare this to the highest performing workplaces where more than 70% of workers feel their workplace supports their productivity. What are the characteristics of these high performing work environments that make their users perceive them to be 27% more supportive of productivity than average?

What we've learned so far

Some of what we've learned from the data thus far supports our shared and conventional thinking – that noise levels have an impact on team member productivity, for example. But did you realize dissatisfaction with noise levels is the number one indicator of perceived poor productivity in the workplace? Likewise, it is evident that we all spend less time at our desks or in our offices than we used to. Therefore we shouldn't be surprised to learn that in the most effective and productive workplaces, satisfaction with elements that support collaboration and interaction with coworkers is consistently higher.
There's more to come
We are continuing our conversation with credit unions, about the issues you face and the workplace strategies you've implemented. We will explore connections between these issues and the workplace and identify strategies that have been shown to improve the effectiveness of a workplace for its workforce. We believe a high-performing workplace is a tool Credit Unions must use to drive higher levels of organizational performance, which means growing and financially sustainable credit unions comprised of engaged teams consistently delivering on their missions to delighted memberships. Our research will help us continue to deliver clear strategies that any credit union can follow in their pursuit of a more effective workplace. Please share with us what issues your credit union is facing and what workplace strategies have worked for you. We look forward to hearing from you.