Momentum Sponsoring Research With Filene to Understand the Impact Physical Workplaces Have on DEI – Feb 24 Release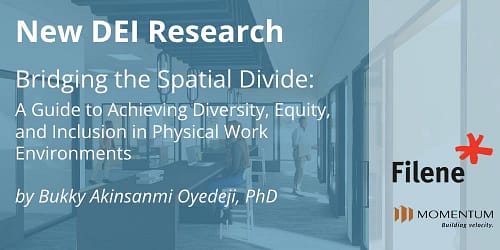 Momentum is proud to announce our sponsorship of Filene's research into the impact that physical workplaces have on diversity, equity, and inclusion. DEI in the physical workplace is a conversation that needs to happen, and it's a topic that's frequently brought up by our clients and integrated into our projects.
Over the past year we've been sponsoring The Filene Research Institute and Bukky Akinsanmi Oyedeji, PhD, Assistant Professor of Management at the University of Texas Austin's McComb's School of Business, in their efforts to gain a better understanding of this topic, to learn what questions need to be asked, and to find answers to these questions.
The main deliverable of this research initiative is a research paper titled Bridging the Spatial Divide:
A Guide to Achieving Diversity, Equity, and Inclusion in Physical Work Environments to help credit unions achieve diversity, equity, and inclusion in physical work environments. It will cover the planning and programming process, physical workplace design, and policies and procedures. The goal is to help organizations incorporate a focus on DEI throughout a facilities project, from the initial conception of the project through day-to-day operation.
We at Momentum are grateful for the opportunity to take part in this conversation and help the credit union industry continue to deliver on its mission of people helping people.
The research will be published on Thursday, February 24th and will be freely available to download from the Filene Research Institute's website. Pre-register now and receive a download link in your email when it's published!