3 Telepresence Solutions Making Branches More Effective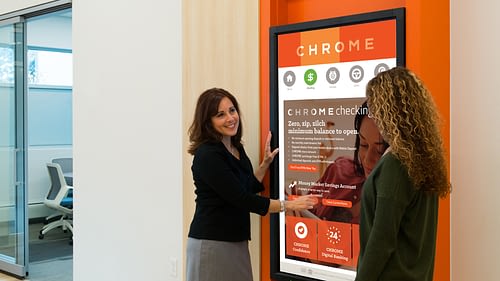 A growing number of banks and credit unions are using telepresence solutions to increase convenience and customer satisfaction as well as boost operational efficiency. The three major solutions range from providing basic teller services through Interactive Teller Machines (ITMs) to more comprehensive services delivered via a telepresence system in a private office in a branch or connecting to customers' mobile devices.
This isn't futurology, the technology is available today with the security and reliability required by the financial industry. A recent research report by Efma and Vidyo showed that over 80% of banks surveyed had either already implemented a video banking system or were planning to in the next year.
I. Interactive Teller Machines
Interactive teller machines, ATM style terminals featuring a connection to a live teller at a central location, are becoming commonplace in branches around the country.
These systems have a number of benefits, such as reducing wait times and freeing up tellers or universal associates to focus on more complicated issues and reducing FTE costs for branches. ITMs can help members or customers with a variety of simple banking needs from making deposits to replacing lost or stolen cards. Some banks are even moving towards completely unstaffed branches.
II. Video Banking in Branch
For more consultative banking services, such as business lending or financial advising, customers typically step into a private office to discuss these topics with an expert. But for many financial institutions there isn't enough volume to justify having a full staff of banking experts in each branch.
This is where in branch video banking systems come in. A high definition monitor, webcam, and document camera paired with a telepresence system from Vidyo or Cisco, for example, connects a customer sitting in an office at a branch to an expert at an operations center, allowing a limited number of experts in a central location to assist customers across a branch network. Now every branch is a full service branch without the expense of a full range of expert staff.
Today's telepresence systems for financial institutions are much more comprehensive than a skype call. Vidyo's VidyoWorks system integrates with existing call center queuing systems, supports document viewing and sharing, and allows seamless handoffs and collaboration.
In the past few years a number of financial institutions have adopted this technology, from banking giants like Bank of America with hundreds of connected branches to credit unions like America First Credit Union. Telepresence systems are software as a service platforms, allowing flexible scalability from just a couple branches to thousands.
III. Mobile Video Banking
The latest evolution of financial telepresence technology brings banking experts to your mobile device or computer, using the same platform and infrastructure as in branch video banking. A number of banks and credit unions, including Barkclays in the UK and IndusInd in India, have successfully implemented these systems.
Connecting with a mortgage specialist or financial advisor outside of a branch usually involves a phone call, but some banks are adding telepresence technology to their mobile and online platforms and connecting their customers to experts directly. This more personal connection builds a higher level of trust, and some financial institutions are seeing closing rates similar to in-person meetings.
This is not only more convenient for the average customer, it allows a better level of privacy for private banking customers.
Are these technologies right for my financial institution?
With over 80% of banks either already using or planning to implement some form of video banking in the next year, this technology is soon going to be ubiquitous.
As part of a strategy to bridge physical and digital delivery channels, these telepresence solutions offer an opportunity to create a more convenient and engaging customer experience. But as with any other technology solution, it's important to consider how they fit into your overall strategy and goals.
According to Vidyo, the most difficult component of adopting a telepresence strategy is in the change management process. Financial institutions must be prepared operationally for their implementation. They must define success, understand work flow, and train staff on using the system. With an adoption strategy in place, financial institutions are poised to reap the rewards of lower FTE costs and higher customer satisfaction that can come from an excellent telepresence platform.
technology, branch strategy