Branches Can Help You Win the War for Talent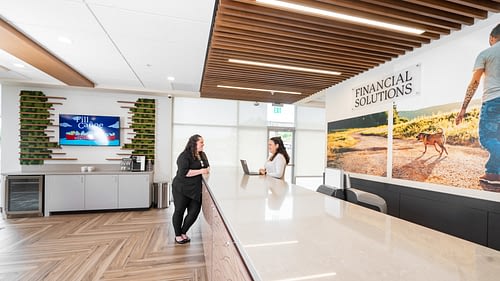 In today's tight labor market, even given the pandemic, financial institutions are waging a war for talent. Digital transformation and innovative staffing models have shifted staff responsibilities from routine transactional tasks to providing more skilled consultative services. Competition for these employees is heating up, but you can leverage your branch network to recruit, engage, and retain the best of the best.
More candidates than ever are seeking out workplaces that support their wellbeing and empower them to make a positive impact on the world. Your branch network is an opportunity to provide these meaningful experiences. Branches showcase your culture and your commitment to both your employees and your members, and they not only represent your organization's purpose but give your employees a sense of purpose as well.
Step back and compare your culture on paper to the culture represented in your branch. Think about how comfortable your branches are, the frustrations and obstacles that get in the way of day-to-day work. Does the branch environment support employee wellbeing, making your team feel comfortable and healthy? And does it help them engage with your mission of supporting your members?
Bringing these types of questions into branch transformation discussions can help you project your culture into the branch environments, cultivate amazing employee experiences, and empower your staff to deliver the highest level of service.
When you focus on the employee experience as a critical part of the bigger picture in your branching strategy, people will take notice. You'll become an even better place to work and the best employees will seek you out. Your current workforce will have more energy and better engage with the work, and they'll shift their perception of their role from a job to a career.
Recruiting, engaging, and retaining the best talent is a challenge, but you have the ability to make an impact through your branching strategy.