Breathing New Life Into an Old Building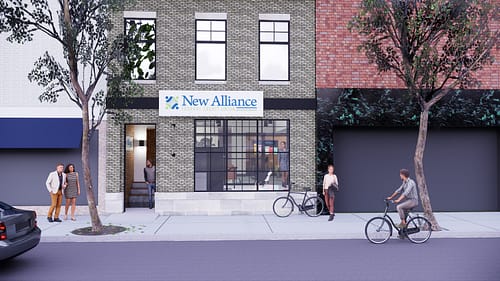 The Best Location – With a Catch
You've done your data-driven market analysis and crunched all the numbers. Not only did you find the absolutely ideal branch location for your market expansion plans down to the intersection, there's a property available.
Off to a great start!
…but there's a catch.
The past hundred years haven't been kind to this building. It's structurally unsound, lacks support for modern mechanical and IT systems, it's not ADA accessible, and is very energy inefficient.
You could tear it down, but this is a historic building with a great street presence. A teardown here would be costly, carries the risk of damaging attached structures (especially with row houses!), and would upset members of the community who you hope to convert into members of your credit union.
Yet renovating it would be too difficult and expensive, right?
Nope!
Recent innovations in construction technology and practices, particularly in precision demolition, remove many of the cost and logistical barriers to delivering this type of project.
Take New Alliance Federal Credit Union as an example.
Case Study – New Alliance Federal Credit Union
The credit union struck gold with an ideal location in the suburbs of Pittsburgh, a neighborhood with a booming population of young professionals and tech workers with a high demand for first time mortgages. Not only that, a historic rowhouse was available right at the intersection recommended by the predictive analytics.
But like the example above, it's well over a hundred years old. The framing and roof needed to be replaced. Many historical attributes such as a beautiful tin ceiling were beyond recovery. And the few steps above street level made the property inaccessible.
Yet with all of these obstacles, this was still the ideal location and the ideal property for New Alliance's branch expansion. It's in a highly walkable neighborhood surrounded by coffee shops, bakeries, and a farmers' market, and the building and neighborhood reflect the aesthetics and values of the members the credit union hopes to attract.
So we came up with a plan using the latest in construction technology and practices.
The biggest challenge was lowering the floor. Typically, demolition like this requires an excavator. On a project like this, that would mean knocking out a wall and gutting the building. Effectively a teardown that might save the façade.
Instead, we used high pressure water jets to quickly erode concrete that needed to be removed and simply vacuumed away the waste. This was incredibly efficient (albeit a very dirty job) and only required a few hoses to access the site.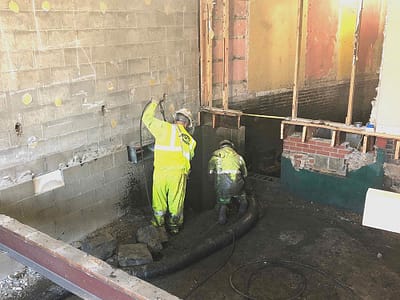 From there we fully replaced the framing and dropped the floor to street level, where members with mobility issues can easily access the facility without the need of a lift.
This also allowed us to adjust the layout of the branch, optimizing it for New Alliance's staffing model and incorporating a community room.
We're also in the process replicating the original tin ceiling.
The end result of this process will be a modern credit union branch that preserves and celebrates the historic building it occupies, breathing new life into the rowhouse and ensuring that it will keep standing decades longer.
Should You Consider a Historical Renovation Project?
So what's the takeaway here?
Don't be scared of moving your branch (or operations center!) into a historic building. The project may be more complex, but not as much as you think. And it's an incredible opportunity to not only integrate your brand into the history of the community, but to give back and preserve a piece of history.
This isn't a project every credit union leadership team will want to take on, but when the right opportunity presents itself the effort can pay off.
Want to see another example of an extreme (though not as old) makeover? Check out American Lake Credit Union's flagship branch, a project in which we transformed an old bank building into what looks like a new, modern building.
Learn More
To learn more about how we reliably deliver complex projects like this, check out our Learn the Process blog series. And reach out to us today via the button below to start a conversation about your next project!