Building the Business and Marketing Case to Support Your Branch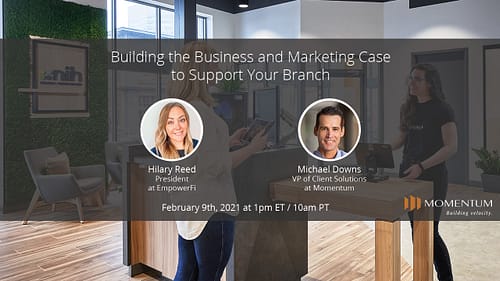 Is your branching strategy driving growth or presenting a barrier to success?
Building an effective business and marketing case to support each of your branches is critical to meeting your credit union or community bank's objectives, but for this to work your KPIs and marketing plan needs to be aligned with the people in your market and their product needs.
We recently sat down with the EmpowerFi team to discuss how credit unions can take charge of their growth and build these cases. Watch the video below (and it's on YouTube, feel free to open in the app or share it!) to join the conversation!
Watch the Conversation!
There are three core components: rely on data as much as possible to guide your expectations and goals, build a realistic set of KPIs and metrics, and differentiate your financial institution in the local market. We'll also present anonymized case studies to illustrate the impact that strategic decisions can have on retail banking goals.
None of your efforts happen in a vacuum. Consider the case where a credit union builds their marketing plan around differentiating themselves as a local financial institution.
The problem? Three other credit unions and banks in the market used the same marketing and branding strategy, and the result was that nobody was differentiated. A deep dive into what was unique about the organization's impact on the local community allowed them to draw out a more unique brand identity that helped the credit union stand out.
Another case saw disappointing deposit growth misattributed to an underperforming marketing strategy. But a market analysis revealed that they had already captured most of the demand for deposits. The disappointing growth wasn't a marketing issue, it was a KPI issue. Shifting priorities and redefining success transformed that location into a high performing branch.
Ready to build your own business and marketing plan and kick off your own branch transformation? Get started with our free Branch Transformation Planning Kit! It contains activity sheets that you can work through to align your team around a clearly defined set of goals and requirements along with an RFP guide, template, and weighted scorecard. Download now via the form below!
Download Now!


data analytics, branch strategy