Caitlin Tallar Promoted to Senior Interior Designer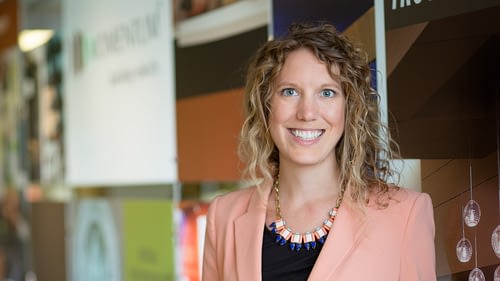 We're proud to announce that Caitlin Tallar has been promoted to Senior Interior Designer!
Over the past seven years with Momentum, Caitlin has delivered incredible designs while expanding her leadership skills. Her new role recognizes these skills and expands on her design leadership and mentorship of junior staff and gives her a greater emphasis on client relationship building.
"Caitlin is an instrumental part of our team," said Jenny Bengeult, Momentum's Director of Design. "Her dedication, talent, and hard-work all make her someone who our team members and clients alike enjoy working with.  I'm excited to have Caitlin step into this new role and continue to grow with us."
Caitlin is a graduate of Washington State University with a degree in Interior Design, and her love of design started in childhood. Outside of work she has a passion for baking, and you should follow her on Instagram to see her incredible confectionary designs!
We're excited to see how Caitlin grows in this role and establishes herself not only as a leader at Momentum, but in the national interior design space.
I think it really speaks to the talent and support of the team that I have been able to take root and grow my career at Momentum. I am grateful to those who have helped me get here and am excited for what the future holds." – Caitlin Tallar, Senior Interior Designer at Momentum