Campus Federal Credit Union Breaks Ground on Baton Rouge Office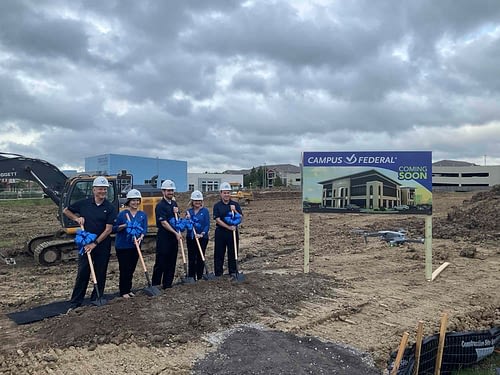 Momentum is proud to join Campus Federal Credit Union in breaking ground on its new Baton Rouge Mortgage and Business Center! The 27,500 square-foot building will feature a flagship branch and room to expand with their growing need for operations space.
Campus Federal recently purchased a property in Baton Rouge with incredible street presence and visibility in a highly-trafficked part of the city. The location was originally intended to replace a leased branch. Campus Federal worked with Momentum on a workplace strategy and built out a business case to alleviate short-term space pressure, provide tenant revenue, and have space to expand into by building a larger facility.
The main theme of this project is building connections between Campus Federal employees. With the workforce spread across multiple locations and virtual environments, employees need ways to effectively work together both in-person and virtually.
In this office building, a mix of assigned and unassigned offices along with open office areas gives employees flexibility around how they work on individual tasks. Additionally, a variety of meeting spaces with technology support allows them to collaborate in small or large groups within teams, across departments, and even across locations and with remote staff.
The new building has a traditional feeling with a modern twist that embraces the Campus Federal brand identity, creating a cultural center for the organization. The space is clean, bright, and healthy, with amenities such as community rooms and a rooftop deck that give employees a respite from their daily tasks and more opportunities to connect. Not only does this space support office staff, it also gives hybrid and remote staff an incentive to spend more days working in the office.
Wellbeing also played a central role in the building's design. Not only did the Campus team want employees to feel safe returning to the office, they recognized that healthy work environments make people feel more comfortable, less stressed and enriches the exchange of ideas while making it easier for people to connect. To achieve this, Momentum's design team followed guidelines from the IWBI's Well Building Standard throughout design. This includes an advanced HVAC system that provides fresh, clean air, natural lighting, acoustic surfaces, and ergonomic workstations.
"Our mission is to be your trusted financial partner for every stage of your life. To fulfill that mission, we are committed to continual investments in our digital banking technology and physical locations.  This facility provides a modern banking experience while allowing us to expand to accommodate growth at our Perkins Headquarters and better serve our members' needs." – Campus Federal President and CEO Jane Verret
The new building will be open for business by the end of 2022. Keep an eye out for updates and photos as the project progresses!
About Campus Federal Credit Union 
Campus Federal Credit Union, Louisiana's top business credit union, is a progressive financial institution providing flexible, competitive financial and related products to meet consumer and business member needs. Formed in 1934 by seven employees of Louisiana State University, Campus Federal is financially sound and has grown to over 43,000 memberships and operates ten (10) locations in Baton Rouge, New Orleans and Shreveport. For more information, please visit www.campusfederal.org, or visit them on Facebook, Twitter, Instagram or LinkedIn.
About Momentum 
Momentum is a strategic design-build partner that takes a people-centric approach to helping credit unions and community banks thrive.
Download Our Workplace Whitepaper and Learn More
Last year we published the whitepaper A Study of Credit Union Workplaces and the Future of Work, analyzing data from over 1,200 credit union employees and exploring the future of credit union work. Fill out the form below to download it now!