Courting Small Business? Why One CU Has Built An 'Incubator'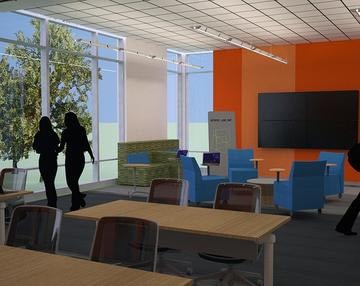 (Originally published on CUToday.info)
CHROME FCU will soon introduce a "small business incubator" at its main office that is to function as a meeting space where local entrepreneurs can share ideas, work and get to know the credit union.
The incubator is part of rebranding of the credit union, which recently changed its name from Washington Community FCU. It's also tied to the large number of microbusinesses that have sprung up in the area around the CU's primary location on Race Track Road, which was recently rebuilt and opened up as a "CHROME Store."
Mark Alguard, senior director, strategic and pre-construction services at design and build firm Momentum, which partnered with Chrome on its new branching approach, explained the $131-million credit union recently conducted a demographic study around the main office, which is the prototype for other new Chrome retail locations.
"We found that there is a great deal of small business activity in the area," said Alguard. "We know they can benefit from sharing ideas with each other, and we know they need a nice space to hold meetings, which many small businesses do not have."
Loaded With Tech
In Washington County, where the Race Track Road branch is located, 85% of all employees work in small businesses, explained Bob Saunders, EVP/partner at the Pittsburg-and-Seattle-based Momentum. "There are many, many microbusinesses here—a microbusiness being a company with under 10 employees."
Saunders added that Pennsylvania's small businesses employed about half (2.4 million) of the state's private workforce in 2014. Microbusinesses, too, accounted for more than 20% of the job gains and job losses from 2000 to 2014.
The 1,500 square-foot incubator, which will be known as the "community room" to members and the community (see illustration) will have the latest AV and collaboration tools, explained Momentum Design Director Jenny Bengeult. "Lots of open space and natural light, meeting tables, a small couch, and chairs that can be configured in any sort of conference arrangement. Anyone can come into the space and, easily and simply, find a way for it to meet their needs. It's a very flexible space—kind of like a Google workplace."
The updated Chrome Stores are designed around relationship building, lifestyle preferences, financial product counseling and problem resolution, Saunders explained.
"The business incubator segment of the branch will initially be used to compliment these design elements and the space will be offered to members, allowing them access to Chrome associates of course as well as meeting space, Wi-Fi access, coffee, and outdoor patio and just a place to meet and hang out with other small business owners in the area."
Saunders said the idea sprouted from Momentum's initial conversations with Chrome's CEO, Chris George.
"In our early meeting with the credit union, they always took place in a coffee shop," said Saunders. "Those around us in the shop were not there for the coffee either, as we were observing several small business meetings taking place alongside of ours. We thought, why not give these folks other options beyond Starbucks—let's open the doors to Chrome."
Boosting The Brand
Saunders added that the average branch lobby experiences the most traffic between 11:00 a.m. and 1:30 p.m., but business meetings take place all hours of the day.
"If we can maximize the use of Chrome's physical branch in some manner that increases awareness of the brand, promotes the services of the credit union and increases interaction opportunities with the staff, it's a win-win for all," he said.
The CU expects the incubator will bring in new small business members, who after getting to know the credit union, will not only take out MBLs, but also business services and products for their personal lives as well.
Saunders said that often banks, when working with small businesses, do not address the personal lives of their clients.
"With a small business, those two things are often closely connected," he said.