Connect with Your Market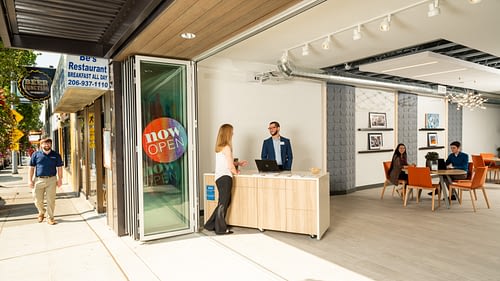 For many banks and credit unions, the most important question they have when deciding to open a new branch is "Where?"
Every market is unique, and choosing the right location alongside developing tailored experiences can help your financial institution resonate with local communities and draw in your target demographics. Understanding your market and where growth opportunities lie, both today and in the future, is critical to achieving your goals.
America is undergoing a rapid demographic shift due to industry disruptions and job opportunities concentrating in urban areas. If you can predict where the market will be, you can position yourself to achieve higher levels of growth. Yet developing an understanding of your market is becoming more complex and requires a data-driven approach with predictive analytics.
Using predictive analytics is different from traditional approaches to branch location strategy because instead of assuming that historical trends will continue, it relies on insights from complex machine learning models to balance a vast number of attributes and data points to forecast how a market will change going forward. We partner with Precisely to deliver these cutting edge insights.
Consider the case study of New Alliance Federal Credit Union. They found it difficult to grow in their existing market as jobs migrated towards the Pittsburgh metropolitan area, and they needed to find a location where they could deploy a new branch with the greatest impact. In partnership with Precisely, we developed a market study that explored the areas served by New Alliance's existing branch network and covered by their community charter. The study looked for areas that would effectively drive growth, offer community engagement opportunities, and further expand the credit union's brand awareness.

The predictive analytics struck gold with a rapidly growing neighborhood a few minutes by car or bicycle to downtown Pittsburgh. The area has a strong presence of tech firms and an exploding population of young professionals in the market for new homes. As a bonus, New Alliance is the only community-based financial institution serving the area, offering residents a fresh alternative to the big banks.

Conventional wisdom and local knowledge are limited in light of demographic shifts, but predictive analytics that forecast growth can give you the information you need to make the best decisions.

Want to learn more about how to connect with your unique market and create engaging member experiences? On  we're going to be hosting a conversation around leveraging how you can merge your physical and digital member experiences. Joining us will be digital banking expert Whitney Loe, Director Of Business Development For Credit Unions at Ignite Sales.


Like this article? Share it!