Empower Your Staff to Create Memorable Experiences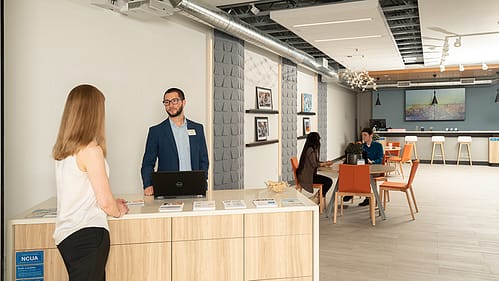 If you have ten staff in a branch, chances are two of them will be working somewhere else next year. Bank industry turnover is 19%, a major red flag that employee experiences aren't what they could be. If your staff aren't content with their roles and looking elsewhere, what quality of customer experiences are they going to deliver?
Great experiences aren't delivered from the top down, they need to be driven by motivated front-line staff who are bought into your mission and feel a sense of ownership over branching strategy. Wellness and compensation are important aspects of the employee experience, but they don't make up the whole picture. It's also important to consider how employees fit into your organization, and to empower them with a greater level of responsibility and a stronger skill set.
Elevate Your Staff
A traditional top-down approach to branching strategy can leave front-line staff feeling like cogs in a machine rather than valued team members driving the mission forward. Rather than just telling your staff how to do their jobs, embrace the dynamic nature of their roles and train them on your mission, values, and how to work autonomously – making decisions based off of that mission and set of values. They should also be included in branching strategy discussions, not only to gain their insights but also to give them a sense of ownership over the work they are doing. This radically transforms the employee experience, and ultimately their self-perception, from that of a lower-level employee to a valued professional.
This approach to staffing will empower your team to make decisions on their own and try harder to deliver frictionless and memorable customer experiences, and you'll be able to tap into their own experiences to better understand the relationship between your organization, your staff, and your customers.
Case Study: T-Mobile
Customer service is a hard, stressful job with one of the highest turnover rates in the business world, and T-Mobile was no exception at a staggering 42%. But in just three years, T-Mobile dropped its turnover rate to 22%, reduced its costs by 13%, and increased customer satisfaction by 50%.
They did this by radically transforming what it meant to be a customer service worker. T-Mobile eliminated scripts and traditional metrics such as call time, and instead built teams of skilled and knowledgeable professionals using their Team of Experts, or TEX, model. The call center representatives solve most problems without transferring to a supervisor or technical support representative, and when they do have to transfer a call they stay on the line and learn how to solve that problem so they won't have to transfer similar calls in the future.
The model works better for everyone. Customers have their issues resolved more quickly through a single point of contact. Employees feel more engaged and take pride in their work. And despite longer call durations, T-Mobile saves money because call volumes were reduced by a fifth due to customers having their problems resolved the first time. Customer and employee retention also dramatically increased, creating a more stable revenue stream and reducing recruiting expenses.
Case Study: Verity Credit Union
Verity Credit Union is an early adopter of tellerless branching, and much of their success can be attributed to the investments they make in their people.
From day one, employees are trained on the credit union's mission, vision, and values and how they can be delivered on. A universal associate encounters a wide variety of situations and, rather than being trained on what to do in every possible scenario, Verity's staff are trained to make independent decisions that align with the credit union's mission.
"If everyone truly knows our values and mission and embodies them, we build momentum and strength," explains Verity CEO John Zmolek. "A lot of places have a mission statement, and it's 'sort of there,' but they don't make decisions from it."
Verity's staff provides valuable feedback about their experiences to better understand interactions with members and how they are supported by current branches. The credit union integrates branch staff in the planning process for new branches, a strategy that enables the unique and innovative branch designs to facilitate better interactions.
Verity also recognizes the value in developing employees' careers by promoting from within when new positions open, giving their staff opportunities to advance.
The end result is that Verity has a well-known reputation for member experiences, dedicated and loyal staff, and steady growth.
When you invest the bare minimum you get the bare minimum in return."

Staff are an Investment, Not a Cost
Many organizations fall into the trap of seeing employees as a cost center, but the problem is that when you invest the bare minimum you get the bare minimum in return. By transforming traditionally lower skilled roles into more complex, dynamic roles that are more about collaboration than delegation, organizations like Verity and T-Mobile have seen dramatic returns on their investment. They not only provide better customer experiences, they deliver these experiences more efficiently.
workplace strategy, branch strategy, employee experience, customer experience