Filene Webinar (Recorded): The Credit Union Workplace of the Future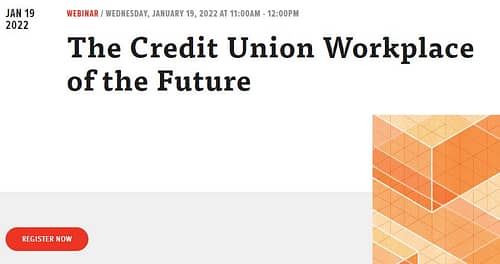 As we approach another anniversary of the pandemic, the war for talent continues to escalate and the stakes for delivering excellent working experiences couldn't be higher.
Credit union leaders are recognizing this and shifting to a long-term mindset for adapting their workplaces to this future of work, not only meeting new expectations but creating inclusive environments that engage their current workforce and establish an employer brand that attracts the best and brightest candidates.
Watch a recording of the webinar with our own Mark Alguard, hosted by Taylor Nelms, Senior Director of Research at The Filene Institute. We'll take a deep dive into opportunities for credit unions to deliver on these experiences.
We'll cover topics such as how office environments can foster both collaborative and independent work, empower employees to work in the ways they are most effective, build a sense of community and affinity towards the credit union's culture and brand, and more.
Watch the recording now on Filene's website.
The Credit Union Workplace of the Future
January 19th at 12pm Eastern, 9am Pacific
Hosted by The Filene Research Institute
And in the meantime, check out our credit union workplace content to learn more about this important issue. Learn how Activity Based Working empowers employees to choose the settings in which they're most effective or how an effective change management process can ensure project success.
And if you haven't yet, download our whitepaper A Study of Credit Union Workplaces and the Future of Work to take a deep dive into data gathered from over 1,200 credit union employees and explore how they can best be supported in the workplace.