HAPO Community Credit Union Celebrates World's First WELL Certified™ CU Branch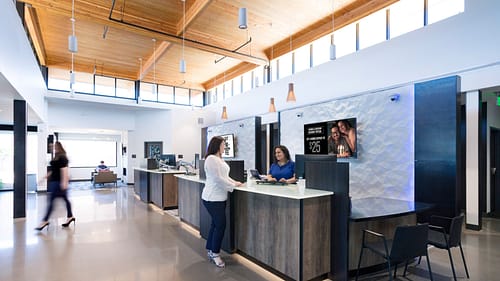 Momentum, a national plan-design-build firm, joined HAPO Community Credit Union in celebrating their new flagship branch in Vancouver, WA achieving WELL Certified™ Silver.
The regional branch is designed to meet the WELL Building Standard, a building certification that focuses on the wellness of the staff and members using the facility. This is the first credit union facility in the world to achieve WELL certification, and second in Washington State of any project type.
"We are proud to bring the first WELL Certified credit union office in the world to our Vancouver members, and we look forward to increasing health and wellness in every community we serve," said Steve Anderson, President and CEO of HAPO Community Credit Union.
The WELL Building Standard takes a holistic approach to wellness, and to become certified nearly every element of the building's design, construction, and operation must take the health and wellbeing of its occupants into consideration.
HAPO and Momentum chose the following WELL-based attributes to help improve building occupants' heath and positively contribute to social impacts:
Air
Fresh outdoor air is incorporated into the building's HVAC system, while volatile organic compounds and other pollutants were virtually eliminated through filtration, choice of materials, and a carefully controlled construction process.
Light
Interior lighting that matches the color and intensity of outdoor light improves circadian rhythms, while direct sunlight provided by a northern orientation and skylighting throughout the building improves the occupants' mental clarity, energy, and mood.
Water
A high-end filtration system ensures that the building's water is healthy to drink and free of sediments, pathogens, and pesticide or herbicide residues.
Comfort
All offices are furnished with height adjustable desks that offer variable positions to accommodate the healthy posture and movement of members and staff, while acoustic designs limit the stress and distraction of unwanted noise.
Fitness
HAPO has an activity based incentive program for all employees to support fitness and work-life balance. The credit union provides gym subsidies and onsite fitness classes.
Nourishment
HAPO provides healthful eating programs and nutritious snacks for employees, while design choices in eating and bathroom areas minimize the spread of bacteria to maintain a clean and healthy environment.
Mind
Patterns of nature are incorporated throughout the building to instill a sense of biophilia, reducing stress and enhancing clarity of though. These patterns can be seen in the living walls, honeycomb-shaped acoustic paneling and light fixtures, exposed cross laminated timber system, and other nature-inspired textures and materials.
"The WELL Building Standard represents the next level of wellness oriented design and construction," said Jim Haack, President of Momentum. "HAPO is very focused on supporting their staff and members, and we're excited to have partnered with them on this elevated investment in the communities HAPO serves."
wellness, well certified, branching strategy, war for talent, employee experience