We Believe the Future of Work is Hybrid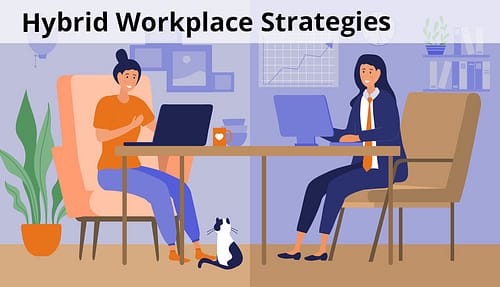 We believe that the future of work is hybrid.
There is a trend across industries where remote working is no longer seen as a benefit, but rather table stakes for an effective recruiting and retention strategy. Yet at the same time, there are real, tangible benefits of in-person work that create better outcomes for organizations and loyalty from employees.
It can be a challenge breaking down this complex issue. Recent research by Steelcase highlighted this by showing that productivity is seemingly paradoxically both the #2 benefit and #2 challenge of working from home.
(Filene has recently published a whitepaper authored by Mark Alguard titled "The New Hybrid Credit Union Workplace." Scroll to the bottom for a video with Mark and Filene's Sr. Director of Research Dr. Taylor Nelms discussing this topic, and download the whitepaper at filene.org/560.)
Benefits of Remote Work
"We know that working from home has worked quite well for the majority of office workers. People say they can focus better, they're not spending time commuting, and there seems to be less distraction that you may have in the office," says Mark Alguard, President at Momentum.
Many workers consider working from home as a core aspect of their employment. They consider it a right, and if taken away they would consider changing employers.
But that said, a large majority of both employees and employers still envision that a majority of their team members are going to return to the office in some form. Research by Harvard Business School shows that 73% of American workers want to return to the office at least part time.
Benefits of Working in the Office
While remote work has clear benefits for individual productivity, in-person work can improve collaborative work, help build stronger relationships, contribute to employees' professional development, and ultimately help your deliver on your organizational goals.
We're social creatures, and it's difficult for us to maintain social networks and connection with each other when we're working virtually. Teams are seeing the size and diversity of their social and work networks diminish over time during the pandemic. It's also more difficult to engage with each other and managers virtually, which can lead to erosions in engagement, loyalty, and tenure.
We decided to return to the office 3-4 days a week here at Momentum. It was about having people collocated so they could communicate more quickly and share ideas on the design and construction projects, and this does have a meaningful impact on end results.
It's not as much the collaboration itself, but the basis is having employees develop deeper relationships with each other. It's an understanding of each other that builds trust and makes it easier to share both good and bad information. That trust allows more open communication and helps our team solve problems more quickly.
For example, say Caitlin, our Senior Interior Designer, selects this beautiful and fantastic glass door system for a project, but Jim, the construction PM on that project, knows that that particular system is difficult to install and often leads to long-term complaints further down the road. If they have a strong relationship, Jim is not going to be fearful letting Caitlin know that this isn't a good solution for the project. There's no friction in this interaction.
Another area where in-person work shines is employee development. Think about how much people learn from doing, observing others, and coaching with quick and casual feedback. Access to peers and mentors via casual face-to-face interactions is a real tangible career benefit to entry-level and senior employees alike, but particularly useful in onboarding and upskilling new hires. It's much more difficult to pass on this knowledge and build these relationships in an entirely virtual setting.
Building a Hybrid Strategy
The reality is that some activities are better supported in a remote setting while others are better supported in the office, and this can vary between teams and organizations.
Keep in mind that when you ask employees about remote work, they'll focus on how well it works for them and their own individual productivity. It's much harder to gain insights into the impact of remote working on a team or the organization as a whole.
It's up to the leadership team to craft a strategy that not only serves the employees but also achieves the organization's goals and objectives. Start with the strategies that will help you meet your objectives, things like quicker onboarding, lower turnover, and faster product adoption.
Consider the work that needs to be done, the employee experiences, and the interactions that you think are going to help your team help you to support these strategies.
And keep flexibility in mind when developing this hybrid strategy. A key benefit of remote working is empowering employees to use this flexibility to find work-life balance, and it's important not to engineer this attribute out of your policy. Allow for employees to choose their hybrid schedule as much as possible while also maximizing their interactions with the rest of the team.
A great hybrid working policy is a balancing act, but we're working to demystify this process.
We've recently published a whitepaper with the Filene Research Institute titled "The New Hybrid Credit Union Workplace." Download it at filene.org/560, and check out Mark's discussion with Filene's Sr. Director of Research Dr. Taylor Nelms discussing this topic  in the video below.
Subscribe to Our Newsletter!

And if you want to learn more about our process and how we can help your credit union build a truly inclusive workplace, reach out today and start the conversation!