Invest in Your Credit Union's Sustainability and Social Values to Differentiate and Grow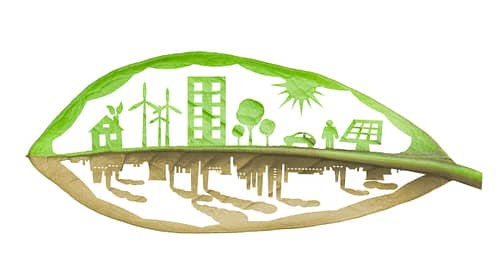 With issues such as climate change and social inequality at the forefront of public discourse, consumers are looking to do business with companies that align with their values and are committed to making a positive impact on the world.
With the financial industry rushing towards commodification of products, credit unions have a unique opportunity to differentiate themselves based on values and experience. While it is going to be difficult, if not impossible, to beat the big banks of mortgage rates, you can absolutely beat them on values.
But does this matter to your members, and are they willing to pay more for a product that exemplifies their personal values?
According to a brand new study from McKinsey, the answer is a resounding YES!
According to the McKinsey study, companies investing in ESG commitments saw a 40% higher growth rate over a five-year period than those that don't. This includes claims of fair trade, eco-friendly, and environmentally sustainable practices. And a previous study showed that 60% of consumers are willing to pay higher prices for products that have positive environmental or social impacts.
60% of consumers are willing to pay higher prices for products that have positive environmental or social impacts."
That's fine for retail, but how does it translate to the financial industry?
The important thing is to show, rather than tell. Express your values in your strategies and in the experiences that you create.
Consider Verity Credit Union, supporting affordable housing near the new Othello Street light rail station with lending products for affordable co-op units. These units will cost around $60,000 to $70,000, less than a tenth of the median home price in the area, and will be available to people making less than 60% of the median income. These mortgages are much less profitable than average, but are Verity's way of demonstrating their commitment to the local community.
Many of our clients also pursue LEED certification, demonstrating their commitment to sustainability. While there's a misconception that sustainable design and construction only impact the energy used to operate a building, the truth is that the impacts are widespread and touch much of our economy. The cumulative impact of buildings pursuing sustainability goals has transformed manufacturing and supply chains. Almost all furniture now is GREENGUARD Certified. Nearly all of the materials we source for projects now come from a 500-mile radius of the project site. The construction of building and materials and items used not only in our projects but in everyday life has become dramatically more sustainable, even for people and organizations that are not pursuing sustainability goals.
HAPO Community Credit Union has also invested in wellness, being the first credit union in the world to earn WELL Certification for a facility. Their new WELL Certified branch promotes the health and wellness of occupants in the community in every aspect of design, construction, and operation. And this new facility made waves, with the community taking notice.
We're at a major turning point in the financial industry. The digital revolution has matured into a status quo, and big banks are getting bigger. Yet trust in big banks is sliding as mismanagement and scandals make headlines, and credit unions and community banks find themselves with a major differentiating factor at the same time consumers are growing more environmentally and socially conscious.
Are you ready to take the next step and stand out from the crowd by embodying your ESG strategy in your branches and workplaces? If so, we're ready to help you get started today!