Build a Lower Cost Branch or Headquarters with Net Zero-Energy Designs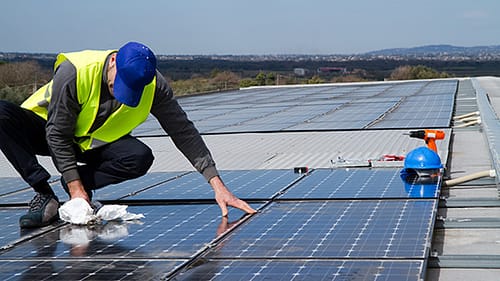 Net zero-energy branches are an emerging trend in the financial industry. These buildings combine efficient designs with solar power to generate more energy than they use.
This type of green design isn't just a high-tech future goal, it's a smart strategy to lower operational costs now. Traditionally, green buildings came at a premium, but innovations in manufacturing and delivery methods have brought the initial cost difference between a traditional building and a net-zero building down to a level where it can be quickly paid off by operational cost savings. These savings result in an overall lower lifecycle cost than a traditional building.
Let's take a look at what goes into effectively delivering a net zero-energy branch.
Efficient Designs Cut Energy Use
When PNC Financial Services Group decided to build their first net zero branch, they set a very aggressive energy use reduction goal and analyzed every source of power consumption and wasted energy. These ranged from light bulbs and heat pumps to loads on power outlets such as computers.
Reducing energy usage was a primary goal of this project, and PNC was able to achieve a 56% reduction in energy usage. They designed the shape and orientation of the building to block heat from the sun and provide diffused daylight. This design put much less strain on the HVAC system, allowing the bank to invest in smaller, more efficient units.
Because the teams working on the different design elements were collaborating, different parts of the building have complimentary designs that maximize efficiency. In the example above, the designers validate the performance model of the HVAC systems with the contractor's knowledge of equipment readily available in the local market.
The integrated design and construction team was in communication throughout the project, sharing information that gave them a more complete picture of how the building systems fit together and allowed them to tailor each design element to the project goals.
Natural Geothermal Heating and Cooling
The warm climate of Florida provides a significant challenge to energy efficient cooling. On 90 degree days HVAC systems have to work hard to maintain a comfortable temperature, but Suncoast Credit Union deployed an innovative solution: their net zero branch uses a geothermal system that takes advantage of the constant temperatures underground as a natural resource to draw heat out of the HVAC system. This system provides a constant 72 degree environment with minimal energy usage.
And because underground temperatures in a variety of climates are fairly constant and relatively close to comfortable indoor temperature, geothermal systems can be used for both heating and cooling in nearly every habitable location.
Solar Power Frees Branches from Grid
Solar power enables any building with a roof to generate energy, and solar installations have been shown to pay for themselves in energy savings. When combined with a high-efficiency building that requires fewer solar panels and a lower initial cost, the savings are even more dramatic.
As with other green technologies, the price of solar panels and their supporting components has been dropping rapidly. The price of equipment and installation of small, non-residential systems like those used in branches fell by 50% between 2010 and 2015! 

Design Build
The Department of Energy highlights design-build as an efficient delivery method and illustrates how collaboration and communication in the design and construction process enables building owners to prioritize energy efficiency while keeping costs under control.  
In a traditional design-bid-build project, team member roles are fractured. Because the design work is completed before a builder is selected, the architect is not able to benefit from the knowledge and perspective of the builder and subcontractors. This presents an obstacle to developing the most energy efficient building possible. Efficient building systems and design elements must complement each other, and the builder can provide better access to real-time systems availability, specifications, and pricing in the market.
In a design-build project, the designers and builders are working together from the start to create efficient designs without having to go through a costly and time consuming revision process.
Getting Started
Are you considering a green or net zero-energy branch or headquarters project for your financial institution? Let's have a conversation about how you can effectively prioritize energy goals in your next project.
sustainability, branch strategy, current trends