New Alliance FCU Cuts the Ribbon on New Lawrenceville Branch!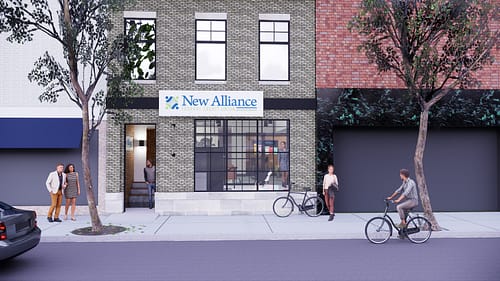 This week the New Alliance Federal Credit Union team joined members of the community in celebrating the opening of their new Lawrenceville branch!
It wasn't easy finding a property in the the booming real estate market. But through an exhaustive search and backed by the confidence of a market study, New Alliance Federal Credit Union struck gold with this historic row house . Not only was it in the right neighborhood, it was in the exact intersection recommended by the market study as an ideal location.
This Lawrenceville neighborhood is located in the suburbs of Pittsburgh, a neighborhood with a booming population of young professionals and tech workers with a high demand for first time mortgages. And the rowhouse itself offered an opportunity to establish a hip walk up location that also celebrates the history of the neighborhood.
The catch is that as a historic building, it had the problems you'd expect to develop over the course of more than a century. The framing and roof needed to be replaced, and many of the historical attributes such as the beautiful tin ceiling were beyond recover and needed to be reconstructed. To learn more about how we did this, check out our blog Breathing New Life Into and Old Building.
New Alliance Federal Credit Union went all-in on the branch of the future, focusing the design around conversations and promoting personal connections between member and staff. The branch has a tellerless staffing model, with an open layout that gives staff and members flexibility around how and where they interact.
The branch also features a flexible community and business incubator space, further demonstrating the credit union's commitment to supporting the Lawrenceville community.
To learn more, check out the New Alliance Federal Credit Union case study and subscribe to our newsletter to see photographs of the branch as soon as they're available!