Momentum Announces New Executive Leadership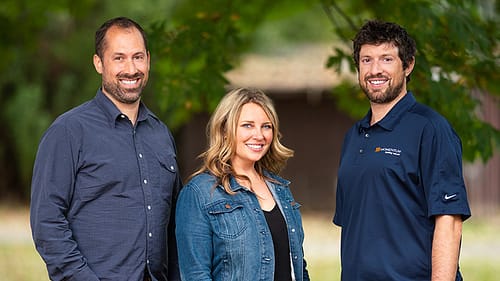 Momentum, a national design-build firm, is excited to announce the transition of three long-time team members to executive shareholder positions in the company as firm President Jim Haack retires. Mark Alguard has been named as President, with Jenny Bengeult appointed to the role of Executive Vice President, Director of Design and Colin Winters appointed as Executive Vice President, Director of Construction. Together, the three will drive forward Momentum's strategic vision of creating buildings that are valued for their positive impact on the organization's they serve.
"I couldn't be more excited to be working with Jenny and Colin in the continued service of our partners", said Alguard. "There is a reason Momentum is known for taking a people-centric approach to its design-build projects – it's that this team's commited to delivering great experiences to the people who use and visit the buildings we build. These are values my team members at Momentum live every day and it's a torch I'm honored to carry."
"In my work with Mark, Jenny and Colin over the past ten years it has been a great thrill to watch them grow a fantastic team, and have an impact on our partners' businesses", said Bob Saunders, VP of Partner Relations. "We have a mantra at Momentum: we make decisions for the success of the project. I know how strong these values are in my fellow team members – their desire to help our clients make the best decisions. It's why I'm delighted to continue working with Mark, Jenny and Colin as they make such a big commitment to our firm and to our industry."
Momentum was founded in 2004 by Jim Haack and Bob Saunders with a simple vision to deliver great projects through integrated design-build. Honed through the delivery of hundreds of projects and rooted in open communication, great collaboration, and commitment to successful partner business outcomes, the Momentum project model minimizes the fits, starts, inefficiencies and waste of a traditional and adversarial building project delivery system.
"It bring me great pleasure to watch this new executive team thrive as it brings success to Momentum and the community-based partners we serve", said Haack who is looking forward  to dedicating more time to his community through the King County Conservation District, Snoqualmie Valley Preservation Alliance, and his working farm and cattle ranch in Duvall Washington. "This team is prepared to continue and build upon the vision Bob and I set out to achieve 15 years ago."