New Filene / Momentum Whitepaper "The New Credit Union Hybrid Workplace" Available Now!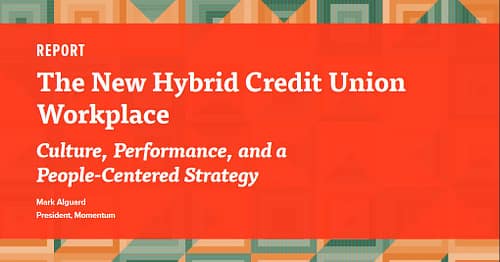 The Filene Research Institute has just published a new whitepaper by Mark Alguard, President of Momentum, titled "The New Hybrid Credit Union Workplace: Culture, Performance, and a People-Centered Strategy."
All signs point to the future or work being hybrid, as the benefits of face-to-face interactions are balanced with the flexibility and freedom that people have come to expect from remote work.
In this whitepaper, Mark explores what a great hybrid strategy looks like and how it can benefit both your organization and your employees. He also explains how to build a great hybrid strategy and create experiences that engage your employees and give their work in the office a sense of purpose.
Download the report today to learn more!
This is our second collaboration with the Filene Research Institute this year, and the latest part of a long-term effort to research and improve the future of credit union workplaces. In case you missed it, this Spring we sponsored and collaborated on Filene's report on DEI in the physical workplace titled "Bridging the Spatial Divide: A Guide to Achieving Diversity, Equity, and Inclusion in Physical Work Environments."