The Next Level of Technology in Project Management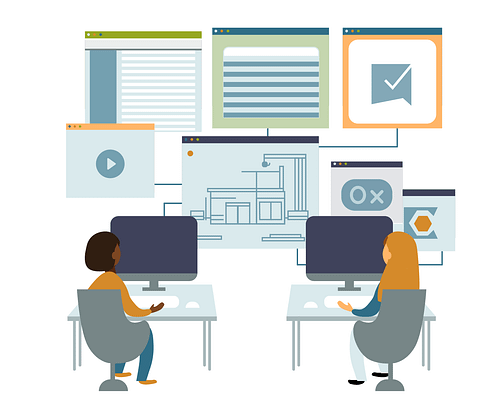 We're grateful to our clients for helping us lead the way in the effective use of project management technology. They've worked along side us on projects as we developed new processes for communication, collaboration, and information sharing via cloud-based project management platforms. With their help, we've fundamentally changed the way that we communicate with clients, suppliers, and subcontractors and reached an unprecedented level of transparency in the construction industry.
We'd like to share our experience implementing Smartsheet to support our financial institution design-build projects. Smartsheet is a spreadsheet-based project management and scheduling platform that allows users to collaborate on tasks and activities in a project and provides live visibility of a project's status. We've used this platform to improve communication, transparency, tracking, accountability, and collaboration. We're sharing this experience because we believe that our takeaways could help you better manage projects in any domain.
Tracking and Accountability
A construction project has many participants and moving parts, and any single task has the ability to massively impact cost, schedule, and results. These pieces have been traditionally fragmented across multiple documents and communication channels, and the process of saving and sharing these documents meant that information drifted out of sync and there wasn't a single source of truth. Smartsheet allows us to bring all of these parts together in one place where they can be effectively tracked and managed.
When we're building a project in Smartsheet, we start by breaking the project down into smaller and smaller pieces until we've captured every discrete unit of work as a task that can be assigned, scheduled, and tracked individually. Each task has an owner, so our project managers can communicate with other team members around specific issues and hold them accountable, and everyone viewing has the most up-to-date information.
These sheets aren't static, either. We use Smartsheet's "predecessors" feature to link every task with dependencies so that when there are changes to the schedule, every other task is automatically updated to reflect the impact of these changes. Consider this situation: a winter storm delays pouring concrete or a shipment of materials. There are many tasks down the line that depend on these activities, and it's very easy for one or two to fall through the cracks if the project is being tracked with static spreadsheets and especially if the tasks have different owners. But in the Smartsheets we build, these changes are propagated automatically in real time.
The end result is that everyone involved in a project, including ourselves, our clients, and subcontractors, is aware of the status of any given task and can see who is working on it, what they're doing, and the impact that it has on the project.
Communication and Transparency
Smartsheet is most often used as an internal tool, but you don't need a subscription or any special training to collaborate on sheets. So we decided to do something out of the box: share our project sheets with clients and subcontractors!
Our goal was to remove the idea that if something delayed it's automatically bad. Instead, we focus on getting everyone informed and enacting contingency plans as soon as possible."
Communication breakdowns are the most common point of failure in a construction project. This can happen between any member of the team, from clients and designers to project managers and subcontractors. We believe that total transparency is the best way to achieve effective communication. Anyone with access to these shared sheets can have an up-to-date view of exactly what needs to be done, what is being done, when it will be done, and also be able to see comments, photos, emails, and documents related to each task.
The most impactful part of our transparency goal is being open about issues that arise. Our goal is to remove the idea that if something is delayed it's automatically bad. Instead, we focus on getting everyone informed and enacting contingency plans as soon as possible.
By giving clients and subcontractors direct access in real time, we've created a natural flow of information that virtually eliminates miscommunication throughout the project, provides everyone with the information they need to complete their part of the work effectively, and keeps people updated with changes.
Easy Collaboration
We've also created sheets that bring easier collaboration to planning and design processes. One area that has had the most impact is the equipment matrix, a document where client-provided equipment specifications, for an instant-issue credit card machine as an example, are provided so that our team can adjust the design to accommodate it.
This is traditionally an Excel spreadsheet. But what we've found is that the equipment matrix changes throughout the project, and saving, emailing, and sharing this document introduces chances for errors and miscommunication.
So instead we created an equipment matrix sheet in Smartsheet to share with our clients. Say a client's equipment requirements change midway through the project: they want to replace a Keurig machine in the original specs with a different coffee machine. They can enter the brand, dimensions, power and water requirements, and delivery date into the equipment matrix. This update will notify the project team, who can make the necessary accommodations in the space and also discuss the change with a tracked conversation in that line item. This can be done via email, and replies in that email conversation will automatically be copied to Smartsheet and logged.
This is the closest that you can get to people working around a table discussing an issue in-person without having to be in the same location.
Leveraging Technology Effectively
The technological changes we're seeing today are nothing short of a revolution. But unlike past advances, such as Microsoft Work or Adobe Photoshop, which functioned as drop-in replacements for existing processes, today's online platforms require careful strategy, planning, and execution to get the most out of them. Otherwise, they can add confusion to existing processes.
We're seeing this not only in project management, but also in our clients' digital strategies. And we're grateful to have amazing, open minded clients with whom we can explore new technologies and push the limits of what's possible.
This blog is just one part of our "Learning the Process" series, which you can read here. We've released a whole series of articles covering aspects of our project management process. In many cases, the innovations we've discovered can carry over to the work you are doing and can help you build more robust project management processes on your own team.
To learn more about the project management process or start a conversation about your organization's strategy, feel free to reach out to us!