Momentum and Pioneer FCU Break Ground on New Headquarters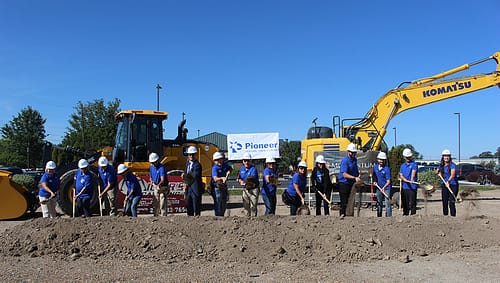 Momentum joined Pioneer Federal Credit Union in breaking ground on their new 27,000-square-foot headquarters project in Mountain Home, Idaho.
Pioneer's brand identity and dedication to members truly resonate with the people of Idaho, fueling growth that led to a nice problem to have: the credit union created so many jobs that they ran out of space! This situation gave Pioneer's leadership team an opportunity to not only expand their operational capacity, but to also step back and envision a new type of space where people enjoy coming to work and establish the credit union as one of Idaho's best places to work.
Pioneer partnered with Momentum to explore strategies and design possibilities, and use a thoughtful, data-driven process to design and build a unique building that supports the credit union's workforce. Every employee was surveyed about their workplace and the work they do, and this data was analyzed and incorporated into the decision-making process.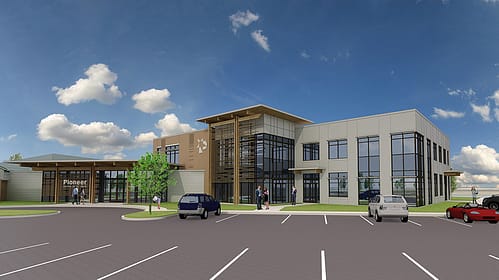 Momentum's interior designers developed an open design that balances collaborative opportunities with privacy and individual productivity, designing the layout and acoustical elements to minimize distractions. The building also features a number of amenities that promote employee satisfaction and wellbeing, from an onsite gym that allows employees to easily fit exercise into their lifestyle to a large breakroom, outdoor café, and nursing rooms.

The new headquarters also represents Pioneer's commitment to Mountain Home. Not only is the credit union creating local jobs, the building will also feature a community space that local organizations are free to use.

Many local residents, including Rich Sykes, Mayor of Mountain Home, attended the groundbreaking ceremony. The community is excited for this new development and the opportunities it will bring.

"Home is where the heart is," said Sykes. "Pioneer never forgot where they came from. They could have invested anywhere in this great state of Idaho, but chose to be true to their roots, and come back home, to Mountain Home, Idaho."

The new headquarters will be completed and open for business in Summer 2020.

Interested in learning more about how workplace strategy can drive your organization to success? Start a conversation with the form below!





groundbreaking, pioneer