Press Release – THIEL COLLEGE CELEBRATES COMPLETION OF THE JAMES PEDAS COMMUNICATION CENTER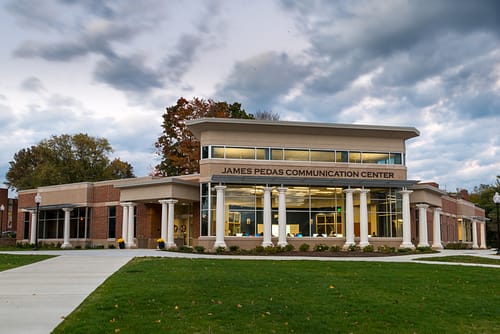 SEATTLE, WA (October 23, 2014) – The James Pedas Communication Center (The Pedas Center) at Thiel College was dedicated in front of a crowd of hundreds of students, alumni, faculty, and community members on Oct. 4. It has quickly become a hub of student activity and learning on the Greenville, Pennsylvania campus. The Pedas Center is Thiel College's first new classroom building in more than 40 years, and features state-of-the-art film, TV, radio and news production equipment, a high tech 98-seat auditorium, open collaborative spaces, study nooks and interactive classrooms. Not only a tool for enhanced collaboration and learning, the facility is also a reflection of the school's commitment to environmental sustainability, as The Pedas Center is finalizing its Leadership in Energy and Environmental Design™ (LEED®) certification this Fall.
During the dedication ceremony, Dr. Lynn Franken, VP for Academic Affairs/Dean of the College noted that the signature academic program of the James Pedas Communication Center is presentational literacy. "In the Discovery classrooms, students will be engaged and learning about performing 'presentational literacy,' which will make our students so employable across the county," Dr. Franken said.
Dr. Troy D. VanAken, Thiel College President, emphasized the importance of the Pedas Center to Thiel College. "The project was grounded in a fundamental belief that communication across all disciplines and all forms is the vital part of Liberal Arts, and specifically, a Thiel experience." Dr. VanAken went on to honor Dr. James Pedas, a film maker and the lead donor for the Pedas Center. "Your [Dr. Pedas'] vision and commitment have been an extraordinary blessing and will create a legacy extending far beyond this physical structure."
"The Pedas Center has been the highlight of our twenty-two year relationship with Thiel College. Knowing the impact that this program will have on current and future students is exciting," said Bob Saunders, co-founder and Executive Vice-President at Momentum, the design and construction team leader. "Methods and technology in the modern business and academic communities are changing at an extremely rapid pace. The fact that we were able to be a part of such an exciting program from its inception, and have early access to faculty and students alike allowed our research, planning, design and delivery team the opportunity to craft a facility that is flexible, adaptive and forward thinking in its approach to promoting a purposeful communication pedagogy and learning environment." 
About Thiel College
Founded in 1866, Thiel College  is an independent liberal arts, sciences and professional studies institution located on a 135-acre campus in Greenville, PA just 90 minutes from Pittsburgh, Cleveland and Erie. Committed to combining the best of the liberal arts tradition with career and life skills, the Thiel College faculty offers a high quality undergraduate education to more than 1,100 students across more than 60 majors and minors in 19 discipline areas that inspire, challenge and prepare students to succeed.