Presentation at MAXX: An Effective Hybrid Work Strategy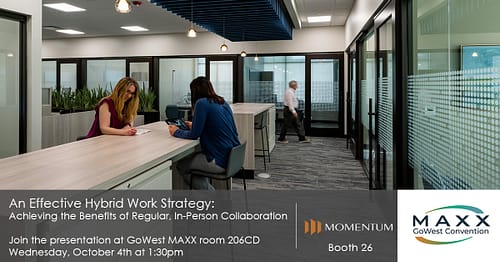 An Effective Hybrid Work Strategy: Achieving the Benefits of Regular, In-Person Collaboration
As more credit unions bring their employees back in, it's important to stay focused on the promised benefits of working in an office. These include facilitating collaboration, sparking creativity and innovation, growing careers, and empowering employees to deliver on the credit union's mission. Join us for a deep dive into the data and explore what has changed over the past year, what has stayed the same, and how you can create a workplace that delivers on the reasons you brought employees back.
This presentation includes specific examples of hybrid successes and failures, a unique dataset of surveys from hundreds of thousands of office, remote, and hybrid workers, as well as actionable strategies to identify ways that you can better support your employees in the workplace environment.
The future of work is here. Are you ready to attract and retain the workforce of the future, and engage them to their fullest potential?
Join Mark Alguard, Momentum's president, for a presentation on hybrid work at MAXX 2023. The presentation will take place on Wednesday, October 4th at 1:30 PM in room 206CD. And while you're there, meet the Momentum team at Booth 26! 
Want to read up ahead of the show? Check out the whitepaper Mark wrote for Filene on the topic at filene.org/560.