Rocky Mountain Credit Union Opens New Branch in Bozeman, MT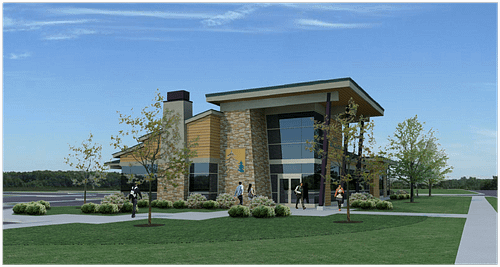 Rocky Mountain Credit Union and Momentum cut the ribbon for a new branch in Bozeman, MT. After doubling their asset size in the past decade, Rocky Mountain is transforming and expanding their branch network.
This new Baxter Lane branch is a ground up construction with a design that emphasized local Montana roots and reaffirms the credit union's commitment to the Gallatin Valley community. The exterior features natural materials, including a stone façade and exposed wood beams that embodies the style and vibe of the region's traditional architecture.
The main retail space is an open and welcoming environment, supporting Rocky Mountains strategy of empowering employees to serve members on a more personal level with increased mobility. The branch features teller pods with minimal barriers between staff and members, allowing them to interact naturally.
The branch is built with locally sourced materials and labor, and the majority of the project's budget was reinvested in the local community.
news