The Nature of Work is Shifting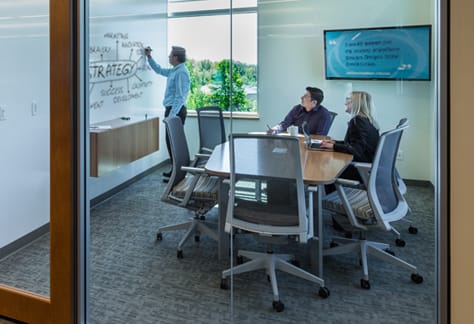 Have you noticed a shift in the work being done at your credit union? Today the definition of work is undergoing its biggest change since the industrial revolution and Henry Ford's moving production line, a shift caused by technological innovation and changing customer demands.
To stay competitive in the new global economy, companies must be ready, willing, and able to adapt. This process starts with awareness and a better understanding of work and the way it is changing. Linda Gratton, a famed researcher on the topic, puts it bluntly: ignore these changes at your own peril.
Automation Drives a Changing Focus
Automation and member demand for innovative services is driving a shift from individual task based work to more complicated work requiring a diverse range of skills.
The bulk of credit union back office work used to be very repetitive. Like the stations of Ford's assembly line, each staff member performed repeated manual tasks throughout the day. But today these processes are being automated by core processors and other fintech innovations, and large numbers of processing staff are being replaced by relatively small teams of high tech IT workers managing networks, databases, and other electronic infrastructure.
This isn't a disaster for workers, though. This increased efficiency allows credit unions to invest in highly skilled teams that can collaborate on a diverse range of projects, adapting with the industry and delivering the best possible services to members. Automating basic tasks in the branches frees up staff to spend more time with customers, and has led to the rise of universal associates. Credit unions, employees, and members alike are seeing benefits of this shift.  
Collaboration isn't a Buzzword
Credit unions today require a high degree of collaboration to serve members' increasing demands for innovative products. But when the idea of collaboration comes up, many people worry about over collaboration: intruders in your open workplace, constant disruption via Slack and instant messenger apps, and team projects with a few too many members. While collaboration may be an annoyance in task-based positions, it is critical to the success of many projects. The fundamental meaning of collaboration is two or more people coming together with a common purpose.  
Let's look at an example of a common collaborative project, delivering a new financial product via a mobile platform. The work involved might include finding the target demographic and testing the viability of the product, smoothing out the final details, implementing it into the mobile platform, creating graphics and content to support it, and marketing it to members. None of these tasks can be done by one person or even a department alone; the project requires a multi-disciplined team collaborating across departments.
Collaboration is the future of office work, and big data firms such as Leesman are helping organizations get a better understanding of the type of work their employees are doing now and how to best accommodate it.
The Universal Associate
We often hear talk of what technology is in the "branch of the future." But the true innovation in branches isn't the technology itself, but rather how the role of branch staff changes as basic tasks become automated.
In-branch technology is enabling a similar shift from task based work to more complicated services. Basic services such as deposits, card replacements, and account maintenance are being automated with money machines and interactive teller machines, which frees up staff to move about the branch and spend more time helping customers with more specialized needs.
The transition to technology enabled automation is giving rise to a relatively new position, the universal associate. Instead of having number of different positions focused on a single task each, universal associates are being trained in multiple disciplines so they can act as a single point of contact and fill the role of tellers, personal bankers, and more.
Better for Everyone
The changing nature of work and the efficiency and innovation that it brings is benefiting everyone, from the credit unions themselves to their employees and members. More efficiency boosts the credit unions' bottom lines. Members enjoy better, more innovative products and the convenience of a single point of contact in branches. Employees enjoy a better variety of day to day work and better careers as they acquire more skills.
Being aware of these changes and willing to adapt to them is critical to future success. What works today won't necessarily work in the future. As Gratton put it in her book The Shift, we can no longer imagine the future by extrapolating the past. Leesman's Tim Oldman takes this point one step further. In his mind, Credit Unions are in a unique position. They are of a size and mission that makes it easier for them to adapt. They must simply approach the changes in their markets and their work as opportunities to better the lives of both their members and their employee teams.
workplace strategy, current trends, recruiting