Three Reasons to Involve IT Earlier in a Branch Project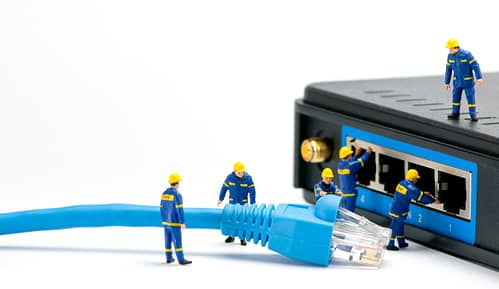 The heart of a design-build project is early and continuous two-way communication. Everyone is working towards the same goal, and a knowledge exchange among the people creating strategy and designs and those implementing those strategies and designs heads off problems before they become problems.
But this level of integration often doesn't extend throughout an owner's team, instead tasks are passed from the top down to people who could have provided valuable insights into the project earlier, likely leading to better outcomes or smoother delivery. 
Your IT department is a great example of this problem. Many aspects of a branch project involve IT in one way or another, and changes to the retail environment or staffing model require significant back-end technology support. Projects often involve a top-down approach, where the leadership team makes decisions that the IT department implements. But when the IT department is at the table and involved in the process, they can help everyone understand the logistics, cost, and timelines of solutions being discussed as well as provide their own suggestions, resulting in better outcomes.
Staffing Model Development
Many credit unions and community banks are moving towards tellerless staffing models and branches with open layouts, where visitors can interact with staff in a variety of locations and on their own terms. Verity Credit Union is a successful early adopter of this model, with laptop and tablet equipped staff delivering a full range of banking services from counters, café-style tables and sitting areas, or hotel offices on the fly.
Traditional teller stations often do a lot of heavy lifting – full size monitors and keyboards allow tellers to flip between tabs to view and input customer information spread across multiple platforms, including the CRM and core processor. For universal associates working from tablets or laptops, this workflow may not be practical when they are also focusing on conversations and efficiently service customers. This lack of integration can be a major obstacle to implementing a new staffing model.  
Your IT department understands your back-end systems and has likely done research into what it would take to integrate your banking platforms. With a two-way flow of information during the planning stage, you may be able to find a close-to-ideal solution that all parties are enthusiastic about implementing.
Smart Integration
There are many other aspects of a branch transformation, such as banking machines, digital signage, and technology bars, that can have major impacts on existing technology systems.
Changes to this infrastructure can be disruptive and inefficient when made arbitrarily. An article in Digital Signage Today claims that digital signage is often selected with no consultation with the IT department, leading to less than ideal solutions and an implementation and maintenance problem that creates headaches for everyone involved. You may have seen examples of poor digital signage implementations when you find a Windows task bar at the bottom of a monitor in a bank branch or, even worse, seen an error message in the middle of the screen that nobody knows how to make go away.
Issues like this, and the frustration that they bring, highlight the true value of an integrated process – one where people with specific knowledge and expertise around the systems in place participate in the decision-making process.
Security
In an era where personal information breaches are common, many credit unions and community banks are implementing high-tech security measures both in-branch and online to give members and customers peace of mind.
Fingerprint readers and cameras for facial recognition are fairly straightforward to physically add to a branch, but the back-end systems that store incredibly sensitive customer biometric data like fingerprints are complex.
When implementing security features that require customers' biometric data, it's critical that IT participate in the discussion and vetting of solutions rather than just being assigned to implement a chosen solution. The stakes are much too high to implement a patchwork solution that can be exposed to hackers.
Many financial institutions are also using biometric data in their online and mobile applications, and having a well-designed solution that integrates securely with their CRM empowers their organizations to facilitate secure transactions across all delivery channels.
Untapped Resources
The people who work for your organization possess an incredible amount of knowledge that can make a project run smoother and lead to better outcomes. But often, especially among staff who typically implement decisions instead of making them, their participation comes too late for their insights to make the most impact on a project.
Applying an integrated delivery approach internally can help get the most out of your team and drive better project outcomes like broader technology adoption, faster product delivery, and lower security risks.
To learn more about design-build and integrated project delivery, check out this breakdown of our project management process where we walk you through the steps!
technology, branch strategy