Whitepaper: A Study of Credit Union Workplaces and the Future of Work
Only 63% of credit union employees feel that their physical workplace enables them to work productively.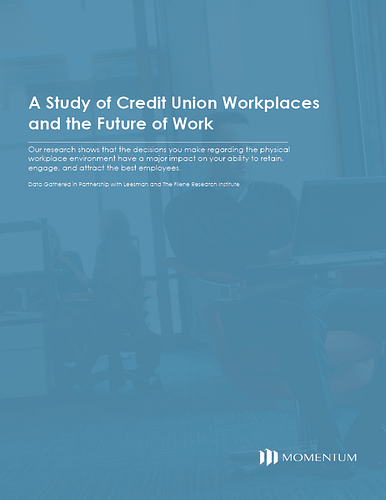 For over a decade, Momentum has partnered with Leesman to approach workplace strategy and design from a data-driven perspective. We work with credit unions to survey their employees and gain a deep understand of what they do now and in the future, how they are supported by their workplaces, and how they and the work they perform can be better supported going forward.
Our research reveals how the very nature of work is changing as well as how workplaces support – or fail to support – credit union employees. Only 63% of credit union employees feel that their physical working environment enables them to work productively. Work has traditionally focused on repetitive and individual task-based activities, and these activities enjoy strong support from today's workplaces. But much of this task-based work is being automated, and with that automation comes a shift to more collaborative project-based and creative work, and in these areas workplaces have failed to keep pace in supporting employees. This can lead to frustration and dissatisfaction with a negative impact on retention, engagement, and recruiting.
Now, for the first time, we're publishing this unique dataset from over 1,200 employees across 21 credit union workplaces along with the insights we've uncovered. Through our research we've uncovered four major insights that can guide you towards effective workplace strategies. Employees want choice in the workplace, to have the autonomy and support to accomplish their work in a way that will be most effective. Friction is causing dissatisfaction, frustration, and disengagement. Culture matters to employees, but culture on paper often isn't reflected in the working environment. And finally, wellbeing deserves more attention because it is at the very base of an employee's hierarchy of needs and is critical to both their productivity and job satisfaction.
Read the whitepaper today to learn more about the state of credit union workplaces and discover opportunities to retain, engage, and attract the best talent!
Download the Whitepaper Now!