Why Sustainable Design?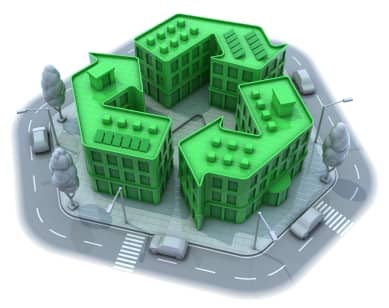 By Bob Saunders, Executive Vice President
About half of U.S. construction is going green.
Sustainable or 'green' design is one of the most influential factors to impact the design and construction industry – some say that even reinforced concrete and structural steel pale in comparison. But make no mistake, green buildings aren't just for those concerned with environmental awareness. In fact, green buildings currently comprise 48% of all commercial and institutional construction in the U.S., with nearly 3.6 billion square feet of building space achieving LEED-certification. Considering that the LEED rating system didn't exist until 2000, this is quite an impressive set of statistics.
What is LEED-certification?
LEED stands for Leadership in Energy and Environmental Design and is a set of universal best practices and guidelines pertaining to sustainable design and green buildings, including a green building certification program. Owners, architects, and construction managers seek LEED-certification to ensure that their facilities conform to a rigorous set of planning, design, construction, and operational standards. While achieving LEED-certification is not a simple endeavor, it serves as a great tool in ensuring that you are making the most of your membership's investment.
It gives a competitive advantage.
The AIA (American Institute of Architects) links sustainable design to 'the creation of communities, buildings and products that contribute to the enduring prosperity of all living things.' If you think about it, you apply similar principles every day as you manage your credit union – striving for consistent, measurable growth and long-term success. Why not apply a similar approach to the ownership and operation of your facilities? After all, your facilities should reflect your core values. Sustainably designed facilities will not only help you stand out from the crowd, but as a community leader, you're entrusted to be the guardian of your organization's resources and a responsible building owner as well. We feel confident in stating that ignoring sustainable design can be short-sighted and even ill-advised.
Benefits gained:
Leading edge design and deployment tactics
Facilities are less expensive to maintain and operate
More effective use of land and local natural resources
Healthier, cleaner, more productive work environment
Increased social capital and community awareness
Aligning member needs.
For a credit union, perhaps more relevant is how sustainable design can align directly with the people helping people philosophy. Members already appreciate the fact you're diligent and prudent in managing their money. When you integrate this way of thinking into the design and management of your facilities, the social capital that you can gain is significant. Plus, you'll have an effective and efficient facility that not only looks good, but provides a healthy work environment for staff and members, and outpaces the average facility in terms of life cycle performance and energy consumption.
How sustainable design impacted our firm.
In 2008, our firm was requested by a prospective client to provide a proposal for the development of an operations center in the Pacific Northwest. A key criteria that we did not address very well at the time was our experience with sustainable design, and subsequently, we were not awarded the project. Following the news of the loss, my business partner and I pledged to achieve a higher level of sustainable design knowledge and performance from within our organization. We owed it to our clients to be not only proficient with the subject matter but to be leaders in the field as well.
Fast forward to 2009. ALL members of our technical staff, including myself, sought, trained for, and successfully achieved accreditation as LEED APs, which is the industry accreditation designation for design and construction professionals. This accreditation enabled us to expand our knowledge of our craft and to become recognized leaders and experts in a burgeoning field.
All's well that ends well.
Today, 85% of our clients seek LEED-certification for their projects, and 100% follow many of the sustainable design standards established by the USGBC (United States Green Building Council). Fast forward seven years after being notified of the loss of the project, and we recently broke ground on that same client's $18MM operations center. The client, by sharing their insight and wisdom, helped us to grow as a firm and realize that sustainable design is something that we all need to embrace, if we are to provide the best return and investment opportunities for our clients. You too can do the same for your members.