Finding a Sense of Purpose in Returning to the Office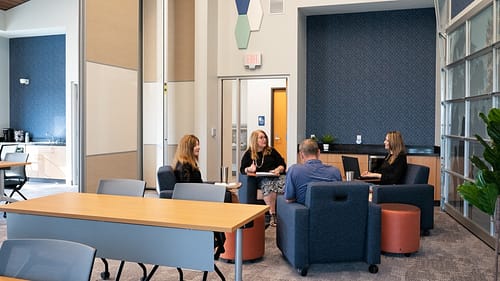 For most organizations the time of return to office (RTO) has arrived, whether it's fully in-person or a hybrid working arrangement.
Yet while polls consistently show that most employees want to work at least part of the week in the office, the execution of this return often leaves a lot to be desired. This results in a difficult transition, and in the worst case drives resignations.
So, what's the problem? Why aren't employees happy returning to the office.
The biggest issue is that the average workplace hasn't really changed since before the pandemic, and that both policy and the physical working environment often fail to deliver an employee experience that meets expectations for the people who have worked through the past few years.
The fundamental promise of a workplace is that is supports collaboration, innovation, and a sense of community.
Yet too many people have returned to the office just to zoom with people at other branches or working from home. Too many people have returned to cubicle farms that don't foster collaboration or interaction with their coworkers. And too many offices feel outdated and have a negative impact on employees' wellbeing.
Combine this with the "Great Resignation" and a labor market heavily sewed towards candidates, and suddenly RTO becomes optional whether you require it or not. If you don't deliver a great working experience, your employees may start to look elsewhere.
There is a solution, and it lies in answering the question "What is the purpose of our workplace?"
In answering this question, you can unlock the innovation, passion, sense of connection, and higher productivity that an office promises.
For example, one purpose of your workplace is to foster collaboration. If you have a hybrid workplace with employees spending too much time on Zoom, you can deliver on this purpose by creating a scheduling solution that brings teams together in the offices on overlapping days so that meetings and impromptu collaborative opportunities can happen face-to-face.
Answering this question starts with understanding how the workplace physically supports your employees both in the work they do and in their wellbeing, and updating your strategy and workplace design to better support them. One valuable resource for achieving this is our whitepaper A Study of Credit Union Workplaces and the Future of Work, where we published insights and data gathered from over 1,200 credit union employees.
Our research showed a major disconnect between employee expectations and how they are supported by their workplace. But rather than a problem, this disconnect represents a multitude of opportunities to deliver better, more supportive workplace.
To learn more, read Mark Alguard's recent whitepaper "The New Hybrid Credit Union Workplace" published in partnership with The Filene Research Institute at filene.org and reach out to our team via the button below!