In-Person Presentation at MAXX – The New Hybrid Credit Union Workplace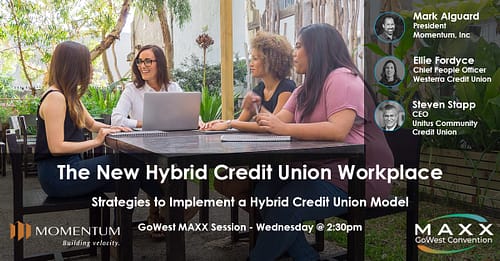 This year at GoWest MAXX is going to be special – not only are we excited to catch up with our friends and partners at the biggest credit union event in the Pacific Northwest, we're also going to presenting on the topic of hybrid credit union workplaces.
This is a topic we've invested in heavily, even before the pandemic. This summer we published a joint whitepaper with The Filene Research Institute titled The New Hybrid Credit Union Workplace, authored by our own Mark Alguard.
At MAXX, Mark will be joined by Ellie Fordyce, Chief People Officer at Westerra Credit Union, and Steven Stapp, CEO at Unitus Community Credit Union, to discuss the new hybrid workplace that is emerging in the credit union industry. You'll hear from industry experts about how to build a framework for a hybrid workplace, key considerations to guide the process, and implications for your employees and organizational culture. You will also see case studies from credit unions that have recently implemented hybrid models, highlighting their approaches, priorities, challenges, and successes.
If you're at MAXX this year, check out the presentation The New Hybrid Workplace: Strategies to Implement a Hybrid CU Model on Wednesday at 2:30pm!
And while you're there, stop by booth #1 or set up a meeting via our contact page!